Find Out Why Dry Storage is a Game Changer in The Bahamas
Posted on: November 18, 2023 | Read Time: 5 minutes
If The Bahamas is on your radar for world-class fishing, diving, or island-hopping, having access to your boat is a critical component of the Bahamian experience. For those who make the crossing, the weather, sea conditions and availability of dockage make the experience stressful and unpredictable for all involved. While dry storage in the United States is plentiful, it's been virtually non-existent in The Bahamas, especially in Nassau where abundant flights make it easily accessible from many US airports.
Now, a new dry boat storage facility at Legendary Marina Blue Water Cay is a game changer for those who frequent The Bahamas and want to get out on the water as fast as possible. Let's take a closer look at the advantages of this exciting new option, ideally located in Nassau.
1. Convenience is Key
Dry boat storage in The Bahamas would offer a much-needed solution to the inconveniences faced by boaters. A local storage facility would allow boaters to bid farewell to the stress and logistical challenges of crossing the Atlantic Ocean or Gulf Stream. No more waiting for unpredictable sea conditions or worrying about return trips home. Rather, boat owners could simply fly into Nassau via Lynden Pindling International Airport and sail on from there. This added convenience not only ensures peace of mind during long voyages but also simplifies the process for family and friends to participate, creating a cost-effective and enjoyable experience for all.
2. Secured and Storm-Ready
Dry storage also eliminates the concerns of how owners will safeguard their boats during a hurricane. Whether it's the relentless sun, heavy rainfall, or strong winds, dry boat storage keeps boats safe and protected from all the elements. Many dry storage facilities in the area are hurricane-rated, designed to shield boats from the strong winds and torrential rains that accompany these storms. Legendary Marina at Blue Water Cay will offer dry storage engineered to withstand a Category 5 hurricane with windspeeds up to 185 MPH, making storage in Legendary Marina's facility compliant with most insurance carriers. Their enclosed facility will be able to accommodate over 750 boats, up to 55 feet in length, ensuring optimal protection against adverse weather.
3. Heightened Security Provides Peace of Mind
Perhaps one of the most significant advantages of dry boat storage is the on-site security measures. Boats are securely stored on racks and locked up at night, reducing the risk of theft or vandalism. These security measures mean owners can leave their essentials with their vessels without having to find a separate storage solution. Legendary Marina takes pride in providing 24-hour security for its boat owners. This comprehensive security package includes round-the-clock surveillance and protection within the dry storage facility. These robust security measures not only safeguard boats but also enable owners' peace of mind to know their boat is in capable hands.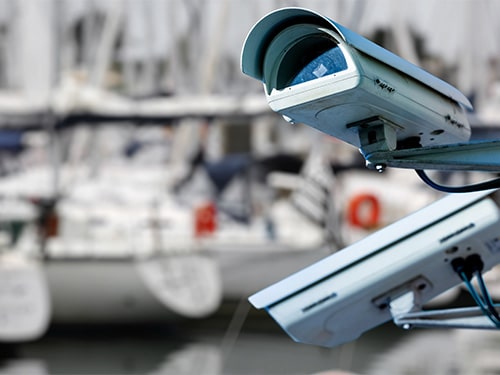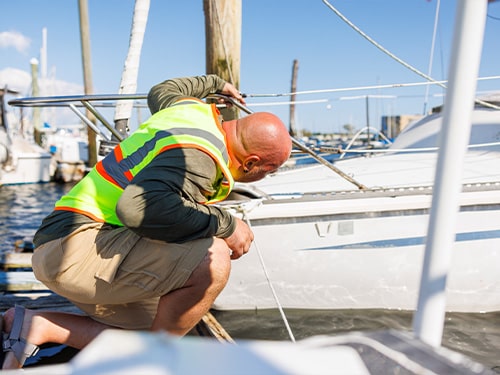 4. On-Site Concierge Ready to Assist
One common misconception about dry boat storage is that boats remain landlocked and inaccessible to their owners. However, many dry dock facilities offer an array of services that significantly enhance the convenience of getting out on the water. On-site concierge services ensure that assistance is readily available for the smaller tasks, enabling owners to fully savor their boating experience. Legendary Marina's dry storage facility empowers boat owners to schedule their yacht departures using a smartphone, tablet, or computer through an app-based reservation service. This means they can plan their outing and have their boat waiting in the water upon arrival, already fueled. Owners can even add provisions such as ice, snacks, and drinks from a pre-selected list to their launch reservation. Whether it's a single day of boating or a weeklong getaway, all boaters need to do is select their provisions, undock their boat, and set course to their chosen destination.
5. A Salt-Free Boat Storage Solution
The Bahamas' warm saltwater conditions can pose several challenges to boat owners who keep their vessels in the water year-round. Leaving a boat stationary in saltwater for extended periods of time can lead to the accumulation of salt. This salt buildup can not only damage the boat, but also encourages the growth of algae, barnacles, and mussels that can be challenging to remove once established. Even for those who use their boat regularly, the importance of thoroughly flushing out the saltwater from the engine cannot be overstated. That's what makes Legendary Marina's complimentary freshwater engine flush service for dry storage customers such a valuable feature. Saltwater can accelerate the corrosion of certain materials, potentially leading to costly engine and hull damage and repair expenses. Alternatively, dry dock storage provides a protective, salt-free environment that can significantly reduce these wear and corrosion issues.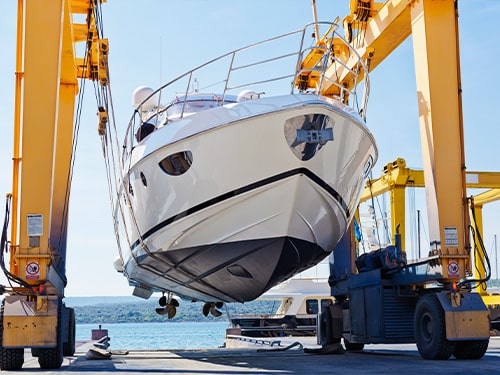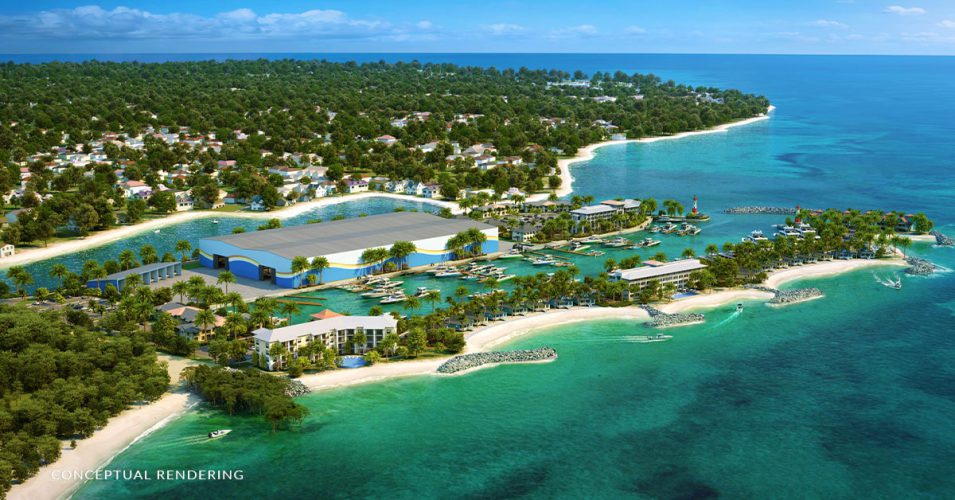 New Marina Resort with Dry Boat Storage Announced in The Bahamas
Developer Legendary Marina is well underway with clearing the Blue Water Cay site for the development of a new marina resort. The marina will be the sole dry boat storage option in Nassau, offering over 750 slips for boats up to 55 feet in length. A state-of-the-art 120-slip wet dock capable of accommodating boats up to 100 feet or greater in length will also be available.
The marina will also boast exquisite accommodations for overnight guests, including 20 condo units, 22 oceanfront villas, and a 130-room hotel. Complementing these amenities will be waterfront retail and restaurant spaces, a tiki bar with a pool, a general store stocked with essential items, and on-site high-speed fuel services, ensuring unparalleled convenience and comfort for all visitors.
For more information about this transformative project and its progress, please visit LegendaryBlueWaterCay.com.